I've just taken an IQ test, and boy am I ashamed.
I've scored... 107 =( Isn't that like borderline stupid?! *sigh sigh*
No! No! It's impossible! I shall try again.
HAH HAH!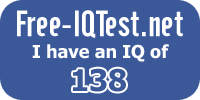 Free-IQTest.net -
Free IQ Test
See, I knew I wasn't that stupid. (I hope this is accurate though)
But I was quite scared when i saw this table:

Table 1 - Practical Significance of IQ
IQ Range

Frequency

Cumulative
Frequency

Typical Educability

Employment
Options

Below 30

>1%

>1% below 30

Illiterate

Unemployable. Institutionalized.

30 to 50

>1%?

>1% below 50

1st-Grade to 3rd-Grade

Simple, non-critical household chores.

50 to 60

~1%?

1.5% below 60

3rd-Grade to 6th-grade

Very simple tasks, close supervision.

60 to 74

3.5%?

5% below 74

6th-Grade to 8th-Grade

"Slow, simple, supervised."

74 to 89

20%

25% below 89

8th-Grade to 12th-Grade

Assembler, food service, nurse's aide

89 to 100

25%

50% below 100

8th-Grade to 1-2 years of College.

Clerk, teller, Walmart

100 to 111

50%

1 in 2 above 100

12th-Grade to College Degree

Police officer, machinist, sales

111 to 120

15%

1 in 4 above 111

College to Master's Level

Manager, teacher, accountant

120 to 125

5%

11 in 10above 120

College to Non-Technical Ph. D.'s.

Manager, professor, accountant

125 to 132

3%

1 in 20 above 125

Any Ph. D. at 3rd-Tier Schools

Attorney, editor, executive.

132 to 137

1%

1 in 50 above 132

No limitations.

Eminent professor, editor

137 to 150

0.9%

1 in 100 above 137

No limitations.

Leading math, physics professor

150 to 160

0.1%

1 in 1,100 above 150

No limitations

Lincoln, Copernicus, Jefferson

160 to 174

0.01%

1 in 11,000 above 160

No limitations

Descartes, Einstein, Spinoza

174 to 200

0.0099%

1 in 1,000,000
above 174

No limitations

Shakespeare, Goethe, Newton
it's from
http://www.geocities.com/rnseitz/Definition_of_IQ.html
At least I can fulfill my dreams of writing. So FREAKY. I don't want to be come a POLICE OFFICER!
I wonder who's the idiot who had so much free time to come up with this stupid table. Merely used to frighten people out of their shite.
I shake and quake in terror of being a member of the law enforcers. Can you imagine me as a police officer....
Police Amanda
: "HEY YOU! Pick up your damn litter!"
offender
: "Why?! Cannot ah! I want to throw mah!"
Police Amanda
: "It's against the law eh! Fine $5000 you know!"
offender
: "I know... But you don't tell, I don't tell... Who will know?!"
Police Amanda
: "Of course I will tell! I am: A LAW ENFORCER"
offender
: "Scared you ah!"
Police Amanda
: "OI YOU BETTER DAMN WELL PICK UP YOUR LITTER, IT'S AGAINST SUB-SECTION 3.48 OF THE LAW BOOK 7.93 TO THROW LITTER WHEN THE DUSTBIN IS ONLY 500 FEET AWAY..."
Offender
: "Wah. She talk alot hor." He creeps away. Then starts running.
Police Amanda
: "You're mother never teach you ahh... EH! STOP RUNNING!" Attempts to chase. "Ehh... I very tired. Whatever, run lo." I sit down and glare huffing and puffing.
Then I'll probably go on and on and on about how it's not right and shout a lot... The only way I'll ever catch him is by killing him with my deadly voice-that-can-kill-elderly-people. T.T Running makes me tired.
Oh the laziness of it all.
Thank God writing only asks for you to run around once in a blue moon.
- this coming from the girl who didn't want to collect her wallet from MacDonalds -